HOW IT WORKS
Harvest Moon Supplies delivers a weekly curation of prepared foods, fresh produce and kitchen staples, to take the stress and planning out of shopping and cooking. Our service is for busy New Yorkers who balance the enjoyment of cooking at home with eating out and ordering in. Our complementary prepared foods promise all the ease of cooking with none of the hassle, delivering variety, healthy snacking, and feel-good meals right to your door, with weekly recipes & tips to set you up for success.
SIGN UP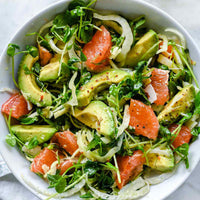 Testimonials
Harvest Moon Supplies' menus are always fresh & always creative: the quality of produce is way better than what I found at Whole Foods and the prepared foods are so fresh and comforting.

Brianna
I travel upstate as often as I can as I love the fresh food culture and close-knit communities. I've said to myself countless times that I wish I could bottle up everything I love about upstate and bring it back to the city with me. You must be a mind reader because you've done just that!

Kate
After months of cooking at home, Harvest Moon Supplies breathed new life into my tired kitchen routine.The greens, produce and vinaigrettes are so good, I've rediscovered the pleasures of eating salads again!

Elizabeth
OUR STORY
Harvest Moon Supplies is the realization of a dream I had as a home cook and food lover living in New York: access to incredible food, farmers and artisans, without the mandatory weekly trips to various farmer's markets, grocers and specialty stores. I couldn't find a curated luxury service for the modern home cook — one without gimmicks or compromise, that channeled the same tenets of quality and ease of the Italian food I grew up eating — so I created it.
LEARN MORE
OUR MODEL
We source our produce and meats from the small farmers & purveyors at the top of their fields, who typically only supply Michelin restaurants like Per Se and Eleven Madison Park. Using their same model, we buy locally whenever possible, shifting our sourcing across the U.S. to provide variety year-round. This approach ensures our customers receive produce at peak ripeness, lovingly washed, sorted and packaged with all the care and attention befitting its quality.
WEEKLY HARVEST